Brackley's school of
Modern Theatre, Tap,
& Jazz Dance
for children & adults

© Copyright Sylvie Essame School of Dance 2020


Pilates Body Conditioning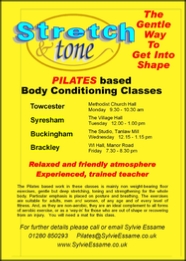 Sylvie also teaches Chair (seated) Pilates
Chair Pilates is ideal for older people and groups in assisted living accommodation.
Exercises help with posture, mobility, strength and balance for day to day living.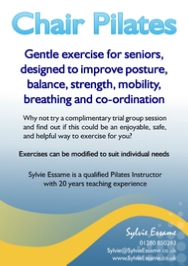 Sylvie Essame usually teaches 'Stretch & Tone' classes in Brackley, Syresham, Towcester, and Buckingham, while these classes were temporarily suspended last year she recorded online sessions for those who would like to keep up their body conditioning while they had to stay at home. There are now 12 of these, 1 for a Seated Pilates class and 11 matwork 'Stretch & Tone' sessions. She will keep adding more as long as current conditions prevail.


Sadly, our classes are now temporarily suspended while we are all in Lockdown.